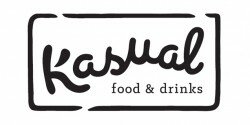 At Kasual two worlds meet: Eastern and Western culture. We offer lovely Asian dishes with European influences, and also the other way around. This is not only evident from our menu, it is also visible in our interior which we like to describe as 'Asian Bohemian'.
Every moment of the day is a Kasual moment: lunch, just a cup of coffee or tea, dinner, or a cocktail with finger food. We offer good prices and friendly, quick service.
A sandwich for lunch, a cup of sustainably produced coffee or a nice glass of wine with finger food. For dinner, go for a variety of small dishes, which you share together (in Asia it is customary to share your food.) Or create your 'own' main course with our mix & match menu. Everything is possible!
10% discount on Mondays, Tuesdays and Wednesdays on every food order!